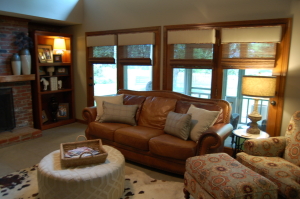 Yes, I run a carpet cleaning business. But people don't actually hire me for carpet cleaning. Perhaps without realizing it, they actually hire me for something much more important.
Think about your home and what it means to you. Think about the life you live and the memories you make there. The comfort and safety you feel there. Your home is your safe haven, and you want your family and guests to enjoy it as much as you do.
I've been doing this a long time, and I've noticed something about my customers over the years. I see your worried hand-wringing as you show me the pet stains your naughty puppy left in the dining room. I see the furrowed brow and unease on your face as you ask me if I can remove the candle wax your husband spilled when he bumped the coffee table. And I see the apprehension in your eyes when you ask if I think your house smells like cat pee.
You aren't really concerned with carpet cleaning at all. No, you want relief from those nagging worries, those unrelenting anxieties that have been troubling you…
"Do my friends think my house stinks?"
"Is my carpet ruined now that it has this terrible stain?"
"Is there anyone who can help me fix this?"
I feel your pain. I understand the anguish. Your home is your sanctuary, and you want it to look and smell wonderful. You want it to be inviting when guests come over. And you want to stop worrying about what others might think. Yes, you want to feel proud and confident about the place where you live!
When you hire me, I'm not out to make a quick buck. My goal is to give you the best possible result, because I realize what you really want. Sure, it's nice if the carpet looks good…but you really want to feel good about your home and to have all worry and doubt removed. So physically, I'm just cleaning carpet. But in reality, I'm there to give you peace of mind.
If that sounds appealing to you, please give me a call today. I'll personally see to it that your wants and needs are met. After all, I'm not just cleaning your carpet. I'm making your doubts and worries disappear.
Brandon
502.767.2455